October 27, 2013
Hello, dreamers, Anka Grace here!
"The Galatea's Captain", in DSP's wonderful anthology Steamed Up (also available in paperback), is my first published work, and collaborating with Dreamspinner Press was a very exciting, fulfilling whirlwind of an experience.
Here's a summary of the story:
When philosopher Kamil Ramses learns the plight of the poor in Camlaan, he offers guidance to its queen. But en route to meet her, his foot becomes gangrenous and must be amputated. Talos is captain of the airship Galatea and a brilliant tinker, a far cry from his impoverished childhood. He is summoned to fashion Kamil's new foot, and Kamil's distrust is quickly overcome when he sees the fine quality of the captain's own prosthetic arm. But Talos has only two weeks to make Kamil's prosthesis. If that's enough time for Talos to overcome his own prejudices against Kamil's privileged past, romance might blossom.
I've always been intrigued by the setting of Victorian England, which my Camlaan takes inspiration from, but it would have been a mess of anachronisms and inaccuracies if the brilliant editing crew at DSP hadn't stepped in. Working with them was one of my favorite parts of the process, because of how thorough they were, and take a look at this gorgeous final result: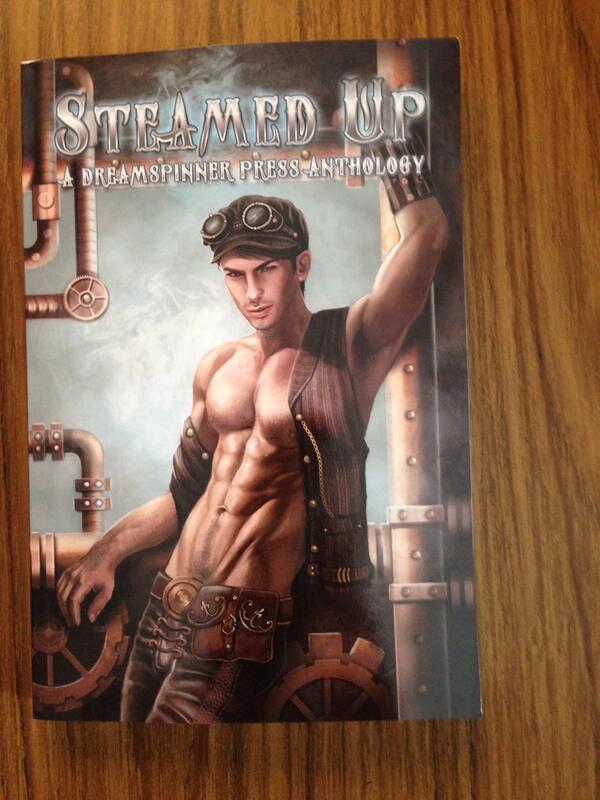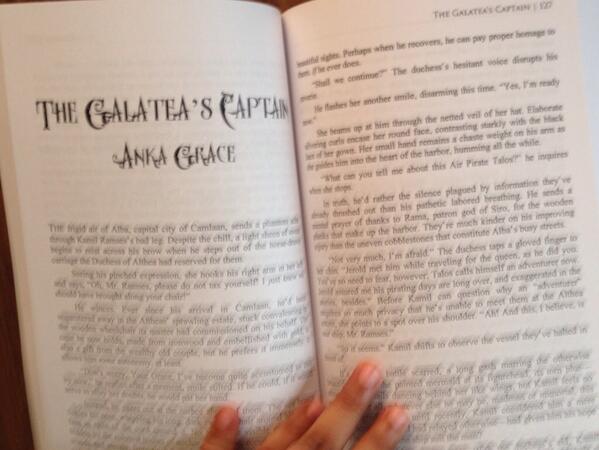 How did they know I loved that font? Because they're geniuses, of course (and possibly psychic…). If the summary, the font, the pre-production staff, and/or my rakish charm (ha-ha) pique your interest, you should definitely take a look at "The Galatea's Captain" and Steamed Up. They're – dare I say it – quite steamy!
Do you have a twitter or a tumblr? If that atrocious pun didn't scare you off, remember, you can find links to mine on my DSP author profile. I'm actually very shy, so don't be afraid to coax me out of my shell!
Can you guess the sources of the allusions I've mentioned in this post? How about in the story? I'm a huge geek about that stuff. Kudos if you can!