April 9, 2012
Hey again, this is MJ O'Shea back, talking about my book Coming Home. I wanted to share a little bit more about the book and add a couple of excerpts:)
This book is driven by two characters who had different but equally rough childhoods. One came from a loving but poor home, and was tortured at school, the other, a rich home not exactly filled with love — he spent most of his teens living a lie…and being cruel to others in a misguided ploy to fit in.
We have Tally, or Tallis Carrington, former rich boy who has fallen on hard times and desperately needs to find a job in the town where he used to be practically royalty and a big bully at the local high school
And we have Lex, who was nerdy and soft, tormented by Tally and his gang of friends. He's come back as a successful business owner, handsome, confident, but still harboring a grudge at the boy who'd hurt him so much in the past.
When the tortured and the torturer meet again years later, sparks fly — although not necessarily the good kind. Tally is clueless, Lex is angry, and, well, you'll see the results: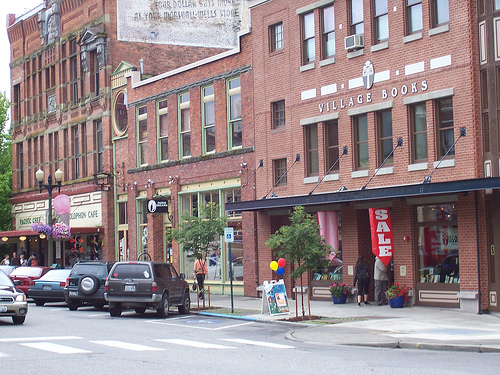 The coffee shop was in one of those turn-of-the-century brick buildings that seemed to line the streets of small towns all over Washington. From the outside, the place looked cheery and inviting, nestled among the renovated lofts at the far end of Old Main. A good sign, Tally hoped. The door was flanked by two potted Italian cypresses and inlaid with stained glass. There was a quaint hand-painted "open" sign dangling from a hook near the top. The hinges squeaked when Tally pushed it open, but even the squeak was oddly homey.
Inside the shop was even better. Warm and fragrant, the air drew him in and enveloped him. The walls had been painted spring green and decorated with framed black and white photographs of the surrounding beaches. Miles of old woodwork and wainscoting gleamed glossy white, and the floors were stained a warm cherry color. He longed to sink into one of the soft, cushy armchairs and close his eyes for about a week. But he couldn't. He had work to do—and at that moment, his work was convincing one damn business in his wretched hometown that he wasn't the big loser they all seemed to think he was.
Tally heard a shuffling sound coming from behind the high granite-topped counter.
"Hello?" he called tentatively. "I'm here to fill out an application."
There was a small crash and a muffled "shit."
Tally leaned over the counter to see what all the fuss was. There was a man kneeling on the floor trying to hold a halfway slit bag of coffee beans together while at the same time balancing a stack of white plates with his knee so they didn't crash to the floor and break. Tally fought laughter as he leaned over to right the stack of plates.
"Thank you so much!" came a relieved voice… a relieved voice that made Tally's heart pound in his chest, throbbing and trying to be noticed as if it were saying "pay attention to this one." The rest of his body responded in that one short moment, hardening, quickening, coming to life. Tally gave himself a mental slap on the wrist. Really. Not the best time for that.
The man started to stand, turning slowly with the slit coffee bag still balanced on his thigh.
"Hey, not a problem. My name is—" Tally's voice stuck in his throat, like he was some little kid with his first crush. The other guy's name must have been gorgeous—sandy hair somewhere between brown and blond, a little shaggy and curling at the ends, big hazel eyes with long curly lashes and a mouth that Tally could have spent hours kissing. Tally wanted to drool. He stuck out his hand and tried to repeat himself. "My name is—"
After one look at Tally, the stranger's beautiful face had gone from friendly to scathingly irritated in a matter of nanoseconds. "Yeah, I know who you are. I don't really think I need the help after all."
Not another one. Tally started to panic.
"Listen…." He paused, hoping for a name.
"Lex," the man supplied grudgingly.
"Listen, Lex," Tally repeated. "I know everyone in this town hates me. Obviously even people I've never met. But I really need a job, and you wouldn't have had an ad in the paper if you didn't need someone to help you. Couldn't it maybe be possible that you might put aside whatever it is that you've been told about me and my father and just take a chance that maybe I'll be a good employee?"
Lex cocked his head to the side, regarding Tally silently. Talk about nerve-wracking.
"Everything I know about you tells me you won't."
Tally backed away toward the door. "It was a long time ago," he mumbled. "People change. Even me." Or maybe people were never really what they seemed.
Lex gave him one more long pensive stare, completing Tally's humiliation. Everyone who remembered him hated him, and it seemed that his reputation had spread to gorgeous strangers as well. He wanted to crawl back to his grandmother's house and hide in his room to lick his wounds. Was I really that bad? He reached for the handle on the paned- glass door.
"You know what?" Lex's voice surprised him. He froze. "Fine. I'll give it a try. Not like I've had any other takers." The last part was mumbled, but Tally heard it just the same. "I start early. Five on weekdays, six on Saturday and Sunday."
"That's okay," Tally said quickly, ready to agree with nearly anything.
"Do you know how to make coffee?"
"No, but I worked in restaurants for years." Please let that be enough.
"I'm not going to want to tell you how to do things twice."
"I learn quickly." Tally hated to feel hope welling in his chest, but it was there—faint yet insistent. As grudging as beautiful Lex seemed to be, there was finally someone willing to give him half a chance.
"Then I'll see you in the morning. Five. Not even a minute late."  …
I don't think I'll be spoiling things too much to say that soon Lex starts to notice that Tally might not be the jerk he used to be…and not only that, but Lex is actually very attracted to him. And so the fun begins:)
He was foaming a latte, the fourth pumpkin spice of the night, when he felt Tally's presence behind him, close and warm and looming. Tally brushed up against him and reached around Lex's shoulder to grab the big cinnamon shaker that was sitting on the counter right in front of Lex.
"Sorry," he muttered quietly, right up against Lex's ear. "Molly wants cinnamon sprinkled on her muffin."
Shivers burst across Lex's skin. "It's okay," he tried to mumble back. His voice came out in a squeak.
He felt the warmth of Tally's breath on his neck, and when he inhaled he could smell him, spicy and sexy and lingering in the air. Tally hadn't moved. The moment stretched, excruciating and hot. Lex felt every single one of his crashing heartbeats. Why doesn't he move? He has to know what he's doing to me! And then Tally did move, but closer, just a small little movement, the difference barely perceptible other than from the wash of warmth that Lex felt deep in his belly. There were fingers brushing lightly at his hip, a touch that could be interpreted in so many ways, and then he was gone—back to chatting with Molly Bates, the girl who always wanted cinnamon sprinkled on her chocolate muffin.
Lex clenched his jaw. Get a grip, Barry! But he couldn't. His pulse thundered, turning his face red, making his groin throb painfully. He had to stare at the counter and do multiplication tables in his head for long moments before he could even consider turning to place the drink on the counter without making a public spectacle of himself.
"You okay, Lex?" There it was again—that light touch, on his shoulder this time, and Tally's voice so concerned against his ear. Lex's stomach quivered and clenched in on itself.
"Yeah, just hungry I guess," he lied. "Got a little lightheaded."
"You want me to make you a bagel with cream cheese? You probably need to get some carbs in you."
No, I need you in me. Or maybe me in you. I don't care as long as I can fill my mouth with your skin.
"Sure," Lex answered weakly. He'd have to choke the bagel down. Bread wasn't even close to what he wanted to swallow.
Moron. That's Tallis Carrington. Tallis jerk-of-the-century Carrington. Straight, asshole… well, reformed asshole. Maybe. Point is, hands off!
In the self-lecture department, Lex knew he'd get an A for effort. It was the follow-through where he failed. Couldn't seem to talk his body into listening… or his mind, for that matter. They both kept screaming "I want him!"
"Here, eat this, Lex. You'll feel better."
A toasted bagel with cream cheese was placed in front of him, accompanied by another hand on the shoulder. Lex stood at the counter, breathing slowly and trying to slow his racecar libido down before it crashed all over the place.
"I'm good. Thanks."
Lex was surprised by the sharpness of his voice. His lust and self-annoyance had come out of his mouth aimed at the undeserving Tally. He turned to apologize, but by the time he'd turned, Tally was on the other side of their space, taking an order from two giggly teenaged girls who made no secret of the fact that they were checking him out. Lex thought he might look a bit hurt, but he hid it with an open smile and flirtatious banter. The two girls ate it up, flipping their hair and applying lip gloss. Tally silently handed Lex the girls' drink order, then turned to wipe off the counter.
"Hey, Tally. I'm sorry. It's been a long week. I don't want you to think I'm a big asshole, I'm just—"
"Really, don't worry about it. I understand. No hard feelings." Tally gave Lex a shy smile. "You better make those two girls their drinks before they eat me alive," he whispered. "I think one of them tried to slip me her phone number."
Lex returned the smile, glad that he could breathe again. "You should escape while you have the chance," he whispered back. "I think I can take it from here if you want to get home."
"You sure?" Did Tally look disappointed? No, more like you're projecting your own shit onto him.
"Yeah, I'm sure. Go get some rest. I'll see you Sunday morning."
Tally untied his apron and gave Lex another one of those killer shy smiles. "Night, Lex. I'll see you Sunday."
Okay, that's it for this post! Hope you're enjoying the excerpts so far. I'll be back soon with some more:)
MJ