November 21, 2013
Maneki-neko!
Okay, I admit it, I'm a cat lady and a Japanophile. I'm not ashamed!
It tickles me when two of my favorite things come together (yeah, I'm easily amused—not ashamed of that either
). When I started thinking of ideas on what to give away—because who doesn't love party favors?—I had no idea what to do. Thanks to the artists at Aka Tako I found just the thing. I couldn't have dreamed up a better way to celebrate the release of my Shibari Romance than with Maneki-neko in a rope cage! As soon as I saw this cutie, I had to have one.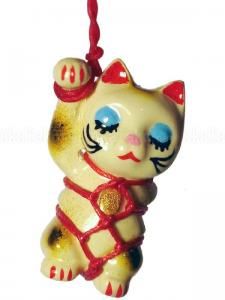 Maneki-neko is the luckiest cat in Japan, and is sometimes known elsewhere as welcoming cat, lucky cat, money cat, or fortune cat. In Japan, shop owners display maneki-neko near their cash registers, or the front door to beckon customers inside. The paw that's raised is the Japanese version of Neo's come-hither-so-I-can-kick-your-butt hand wave.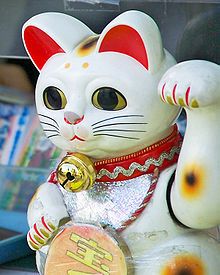 Traditionally, maneki-neko would be wearing a collar, maybe with a bell on it, and holding a coin of some kind. I see why this artist didn't go that route, the simplicity of the rope cage is adorable—and it's teensy!
We're all here because we love stories, so I'll share one about maneki-neko. This lucky cat has appeared in Japanese folktales since the 17th Century (or the 16th, depending on who you're talking to), and that's time for a lot of stories!
One of the most common origin stories is about a poor shop owner who sees a hungry and neglected cat. The shop owner invites the cat in and gives him a loving home. The cat is grateful for his new home and sits in front of the shop, beckoning the people passing by to come inside. The cat changes the owner's luck, rewarding his kindness with prosperity. Ever after, the symbol of a beckoning cat has been a good-luck talisman for merchants.
As someone whose animal friends have all been rescues, maybe it's no surprise I like this story best.
So, if displaying maneki-neko is lucky—I think giving one away must be lucky too. Everyone who comments during my party today has a chance to win the cell phone charm pictured above. I'll even send it internationally—as long as you live somewhere served by the US Postal Service.
Do you have a lucky talisman? Maybe a ritual for a sports team or something you do every birthday or New Year's Day? Tell me about it for a chance to win one of my three prizes: the cute cell phone charm, penis chapstick cozy, or an ebook copy of Curious Sustenance!

Here's an excerpt featuring Ross's brother. He snuck up on me and became more important to the story than I thought at first—which was lucky for him because I almost wrote him out entirely. The opening dialogue belongs to him.
"Ross. You're coming. Bring your friend, but you're coming. I'll make sure you're a couple rows back so you won't have to worry about seeing too much of the other guy's blood."
Then the line went silent.
Ross looked at his phone and spoke to it as though his brother could still hear him. "Very mature."
Janet chose that time to come in and dropped an armload of packages on the closest chair. "You know those phones aren't that smart, right?"
Ross stuck his tongue out at her, and she laughed.
"I was talking to my brother."
"Oooh, the little hot one?"
"I only have one brother."
Janet plopped down on the couch beside Ross and shamelessly read the e-mail that was still up on his screen.
"He even uses his stage name in e-mails to you?"
"It's not a stage name. And when you meet him, remember he's not a performer, he's an athlete."
She stared at Ross for a whole minute while he considered telling her something had flown into her mouth.
"Your parents named your brother Rune? Seriously?"
"Seriously. I told you, Mom's an old hippie. Or something. They had some kind of deal about naming us—Dad's mother, Mom's father, and then she could go nuts on any more kids. Just so happened she got a nut to go nuts on."
Janet bounced against the back of the couch, kicked off her shoes and put her feet up on the coffee table.
"So he's coming to town?"
"Yes." Rune fought out of Seattle and spent most of the year traveling around the US and Canada pummeling other scantily clad muscle-bound men for a living. Just thinking about it made Ross shudder. "His fight's on Friday night, and you have to come so I can hide behind you when things get messy."
"Your only brother's coming to town. Why do you sound so bummed?"
Ross shrugged and closed the e-mail window on his way up to get something to drink. When he came back from the kitchen, Janet grinned up at him.
"The club's not only open on Fridays. We can go tonight if you want to."
He tried to shrug and return to his seat with an air of nonchalance but only made Janet giggle.
"Okay, since you didn't say no, that means we're going. Lucky I'd already planned on it." Janet winked and then scooped up her packages. "I'm going to use all the hot water, but you'll have time for a bath too if you want one."
Thanks for reading!
Don't forget to leave a comment for a chance at my party favors!
If you don't have a ritual, I'll bet you have an animal story. Did you rescue a kitten, return a puppy to its owner? Make me cry, dudes!
Maneki-neko source material: Daruma Magazine